How about we organise an Old School Magic the Gathering Festival?
A 3 days festival full of magic events. Where we rip some 20+ year old boosters, drink some beer and play a Swedish constructed event as main event. There is no Old School magic event organised as a Festival yet, at least not in the Netherlands. So it sounds like it's new… but it's not. Its actually very Old School.

Back in the days…
Let me take you back to where it all started: the good old pre-internet days of magic when the scene was spontaneous and fun. Where decks were weird, unexpected and unpredictable. Where trading was a big part of the fun, where Alpha cards were illegal and thus worthless, when we were just college kids or students scraping together some money to buy a booster and where the 16+ amongst us drank a lot of beer.
In my hometown Leeuwarden there was a flourishing Magic the Gathering scene in the nineties. It all started when game club UCP (Urza's Casting Party) was founded in 1995. Magic the Gathering was the new hype game and within a few months this club grew into 30 active players. The location where this took place was music cafe The Brouwershoeck which was the hip place to be at the time. Being able to play while enjoying music and beers contributed to the relaxed ambiance in which it took place. Soon monthly tournaments and events were organised and UCP grew into a club of 100+ active members not only playing Magic but any strategy or fantasygame. By then is was the largest official gameclub in the whole of the Netherlands. UCP still exist btw and still has a quite active group of game and mtg players now mainly playing standard and modern.
Open Frisian Championship Magic
Starting from 1996 UCP organised a special weekend tournament called the 'Open Frisian Championship of Magic the Gathering'. This tournament took place over 2 days featuring a constructed event on Saturday and a Limited event on Sunday. The results combined over 2 days could make you the Open Frisian Champ for a year. A big honour considering you'd be in a list of winners together with later to become Hall of Fame-member Jelger Wiegersma.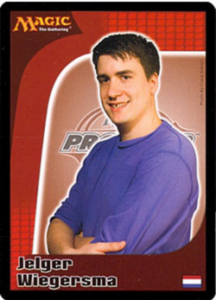 Some players from back then still refer to it as the best tournament they ever played. And that was not because of the competition but more about having fun a whole weekend with friends. People came from anywhere and stayed over with friends for the whole weekend having fun, drinking beers and playing magic. And the decks played at tournaments weren't all spike but more like weird brews. Often competitive players ended up losing games to weird combo decks that weren't played elsewhere (some of the spike Groninger players really feared the unpredictable metagame of Leeuwarden).
Let's do it again!
By now I think you should have guessed what the 2019 Uthden Troll Cup aka the Open Frisian MTG Oldschool Festival is all about. Yep, the ambiance from back then, playing cards from back then and rewarding creative and weird decks. In January 2019 I was lucky to discover there already is an very active Old School scene in the Netherlands and really have enjoyed the tournaments I played so far. Meeting nerds who enjoy cards and beer must be the best thing you can do. The only thing I missed so far is the excitement of opening boosters and built a brew that beats the hell out your opponents. Yes, I'm talking about playing sealed or draft with 90's boosters. So on this festival besides the good old Swedisch constructed there will be a whole lot of opening boosters from back then. When there are enough geeks like me who enjoy playing limited then this year we will be able to open boosters from Revised, Chronicles, Fallen Empires and do a Sealed Mirage Block.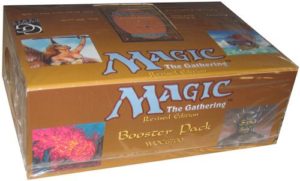 Weekend schedule for now:
Friday, November 1st:
11am                               Doors open
11am-7pm                      Casual play, meeting & drinks, maybe an Oldscool Cube
7.30pm – midnight     Revised Booster draft
8pm- midnight:           93/94 Rochester Draft
Damage events:          Revised Booster draft  € 175  (1 revised, 2 chronicles, 1 fallen empires)                                                                                                                                                                                                      –                                      93/94 Rochester draft € 15   ( 3 repacked boosters, originals and reprints)
Saturday, November 2nd:
10.30am                        Doors open
11am-17pm                   Uthden Troll Cup  5 rounds of Swiss Swedish constructed
17pm:                             Start top 8
17.30pm:                       Side event: Creature Only (93-Mirage block)
20u- midnight             Troll Disco (just guess what it is)
Damage events            Uthden Troll Cup  € 10 euro                                                                                                                                                                                                                                                                                      –                                      Creature Only        € gratis
Sunday, November 3rd
10.30am                        Doors open
11am- 18pm                  Mirage Block Sealed
18pm                              Ceremony of the overall winner of the MtG Oldschool Festival
Damage event              Mirage Block Sealed € 120 (1 starter Mirage, 2 boosters Visions, 1 Weatherlight)
More info about the festival will follow and can be found on our Facebook site.  Important information and subjects like how to built budget decks will also be published in blogs here at the Raging Bull Series site. For questions or subscribing to events: uthden.troll.cup@gmail.com
A festival without people is no festival. So of course I hope you all will come November 1st-3rd and enjoy what I hope to be the best Magic Festival you have ever played!