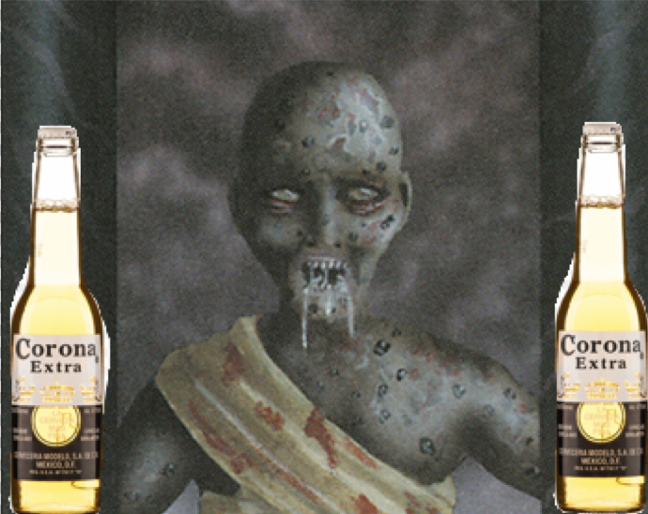 It's March 15, Corona has spread through the Netherlands and the government decided to close bars, restaurants, hairdressers, gyms etc. and advise everybody to work and stay home. This is it for the Dutch tournament scene which was just about to start. We normally have a very active community with a lot of great people who are organising tournaments for the community. Just look at the calendar and you will see we can basically play a tournament every month and because of the size of our small country you never really have to travel more than 1 – 2 hour, extend this to include the Belgium and German tournaments and you're basically set to play even more, just look at our event calendar to get an idea.   
Because of the short travel required and the active community (over more than 70 active players) we always have about 35 – 50 people joining our tournaments, including some ruglar foreigners like Florian and Jason and the first edition of Raging Bull even attracted Mitja, Alban and the Italian Fish Liver crew. Just too bad the 2nd edition will now be online because we had a lot more communities signed up. 
Anyways, back to March, with all the tournament cancellations coming in and everybody stuck at home I felt I wanted to do something with an idea which was already in my head for months…. I always thought about setting up a sort of online league/series similar to the NEOS monthlies and DFB's derbies. I really would like to join the NEOS series but scheduling the games with the US time zones is just really hard next to 3 children and a full-time job.  
So with everybody stuck at home and no tournaments I decided I would set up an online derby for the community, just a short tournament so we could play some games.The name was simple of course this would be the Corona Cup, now get the setup in place so I messaged our old school philanthropist DFB and asked him about his derby and he was friendly enough to supply me with the software specifically made by our web and software wizard SlanFan, thanks for that both! I later found out, while listening to the ATC episode, that I wasn't the only one. 😉 
So I built a google sheet, tested the software and asked the community who wanted to join. Wow, I ended up with 30 people from the Netherlands, Belgium and our German friend Florian. This meant we would do 1 batch of 4 matches and a Top-8. Everybody liked the setup, we had a lot of fun and people were done with their matches in a matter of days. I believe we went through the whole thing in under 10 days. The feedback was so positive that I decided to do more series, after all the government extended the "lock-down", so we would have more time. 
I thought about the setup and decided to do 4 Corona Cups, each consisting of 10 days (excluding T-8) and the finalists would be put in a special 5th round, the Champions League. So I created a poster and a Trailer and posted it in our whatsapp and Facebook group. Everybody could sign up for the remaining 3 cups and within 3 days I had between 34 and 40 participants per cup.
So let's have a brief look at the cups. 
Cup 1
So this was the first one as a test and it was great, after explaining everything in an online document we kicked it off and people started playing. I created a whatsapp group and quickly people were spamming, bragging and most of all having fun. We also had a newcomer to the cup, Leon. Leon has a beautiful collection of Beta cards and built a deck to play with us. You can see all the decks in the gallery below.  After about 7 days everybody finished their games and the standings looked like this (note Bjorn's stainless record):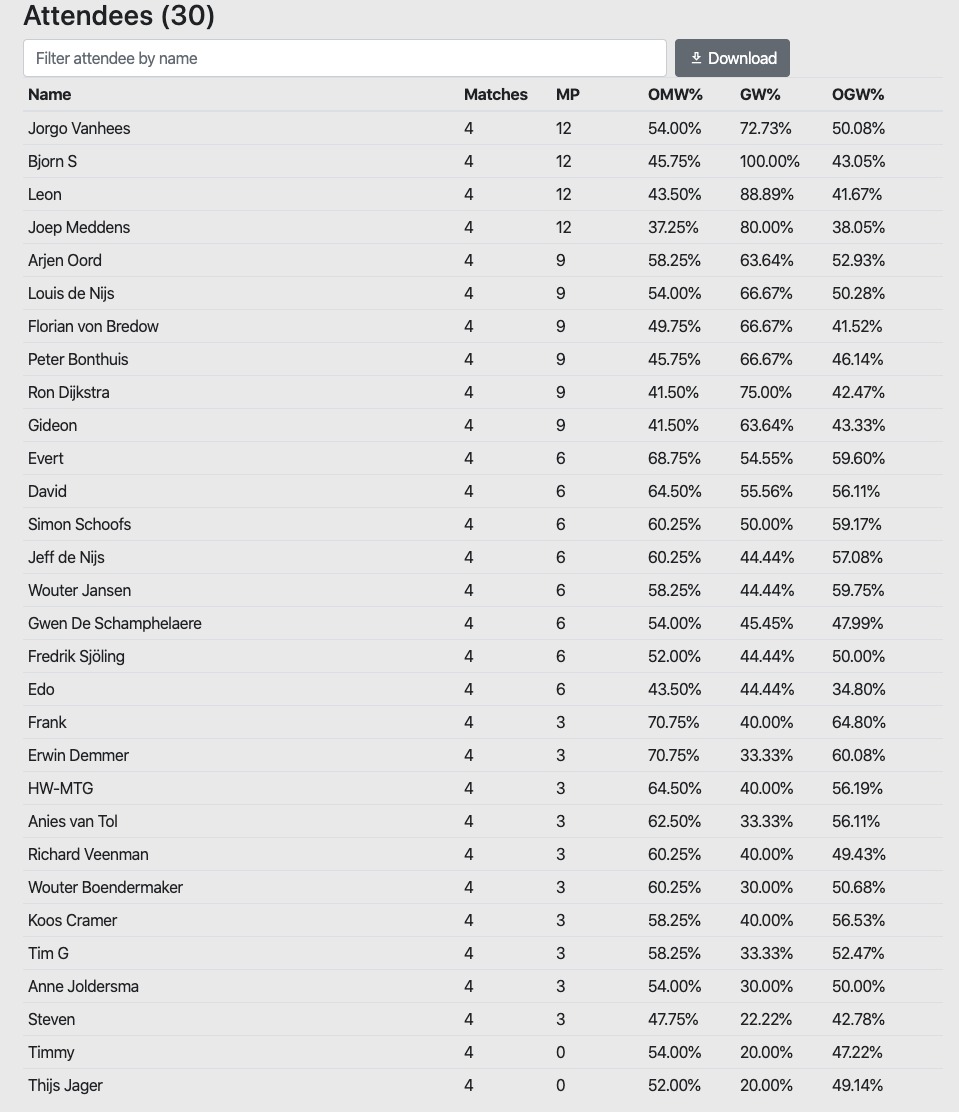 4 people who went 4-0 and 5 who went 3-1, it's inevitable in this setup but still annoying to have one person on 3-1 not going into T-8 (sorry Ron), this was now defined as "de pech pot" (unlucky match) and it wouldn't be the last….
In the end the final was between Leon and Peter, so we had our first 2 Champions League contenders and in the end Leon won the whole thing with his Nethervoid list including word of command! I expect a spike coming 😉 
Top 8: 
Quarter Finals
Winner

Jorgo Vanhees

VS

Peter Bonthuis

Peter Bonthuis

Bjorn S

VS

Florian von Bedrow

Florian

Leon

VS

Louis de Nijs

Leon

Joep Meddens

VS

Arjen Oord

Joep

Semi Finals

Peter Bonthuis

VS

Joep

Peter Bonthuis

Florian

VS

Leon

Leon

Finals

Peter Bonthuis

VS

Leon

Leon
The Decks
For me the deck of this cup was Steven's deck, he was a new player (for me?) and his deck is the true spirit of OS, he built the deck he played when he was young, you can see the icy/Royal combo and the Timmy/Queen, haven't we all built that back in the 90's?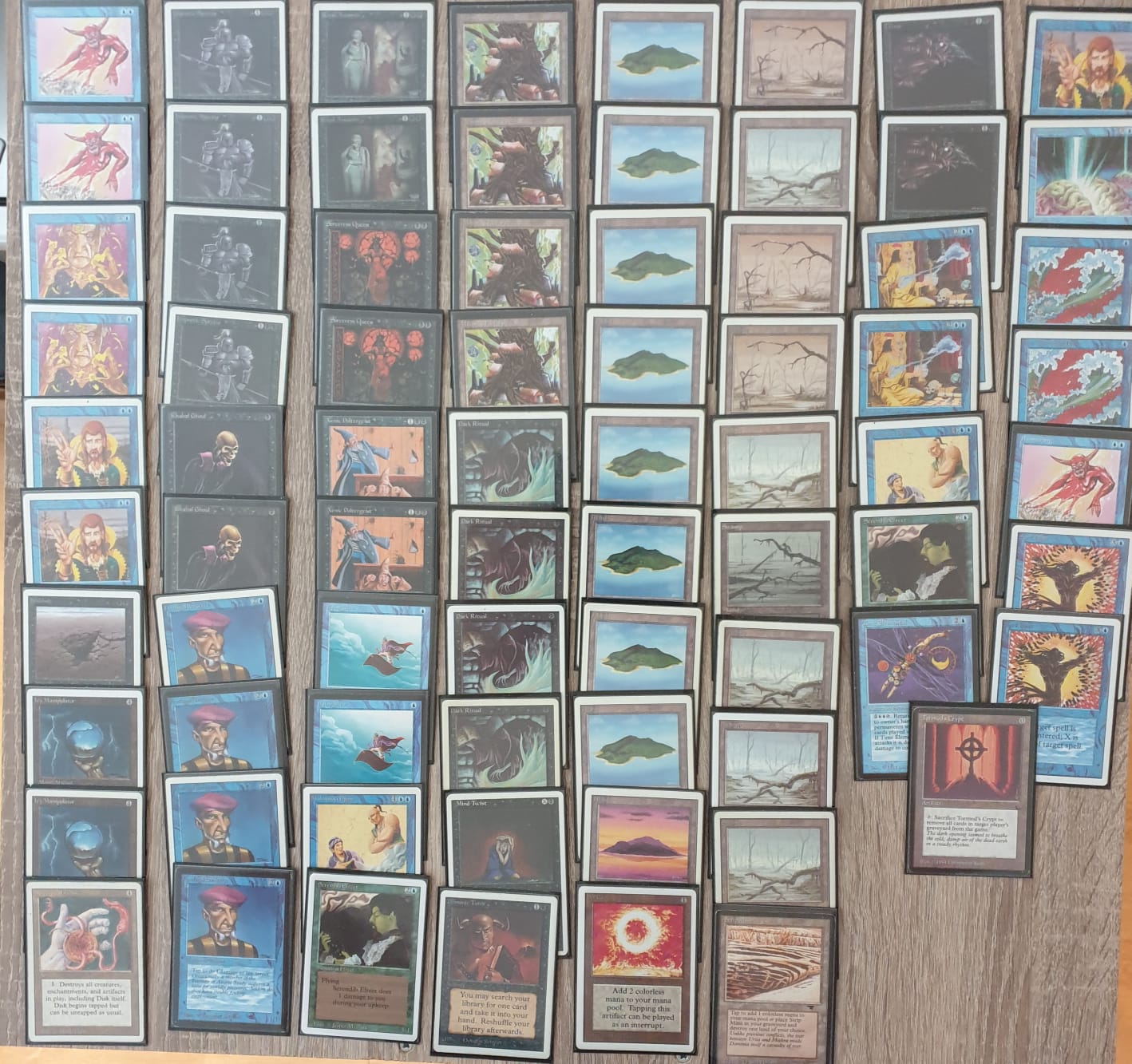 Deck Gallery:
Cup 2: 
So everybody was now used to the concept and people who first thought the lock-down would only be for 2 weeks now signed up as well, we had 34 people. And two of the first people to sign up were Jason and player of the year our own Reindeer. We played 5 matches and after about 9 days the standings were like this: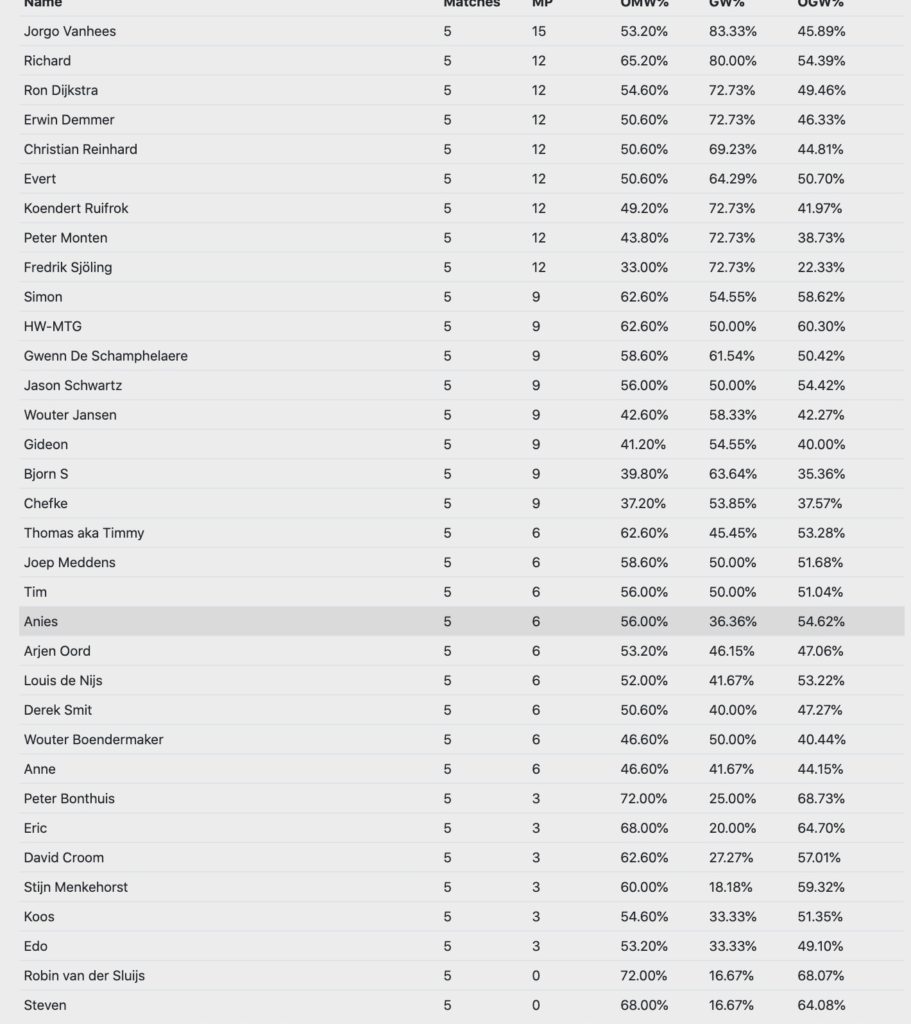 Top 8: 
Quarter Finals
Winner

Jorgo

VS

Peter Monten

Peter Monten

Richard

VS

Koendert Ruifrok

Richard Veenman

Ron Dijkstra

VS

Evert

Evert

Erwin Demmer

VS

Christian Reindeer

Christian

Semi Finals

Peter Monten

VS

Christian

Peter Monten

Richard Veenman

VS

Evert

Evert

Finals

Peter Monten

VS

Evert

Evert
So Evert and Peter took the next 2 tickets in the CL with Evert winning. 
The Decks
It was difficult to select a deck of this round, I really liked Edo's deck which I guess could be called "Fork You!", Eric built a great deck with Blazing Effegies and City of shadows but I can't ignore someone who makes top 8 with 3 Colossus in their deck, check out Koendert's deck.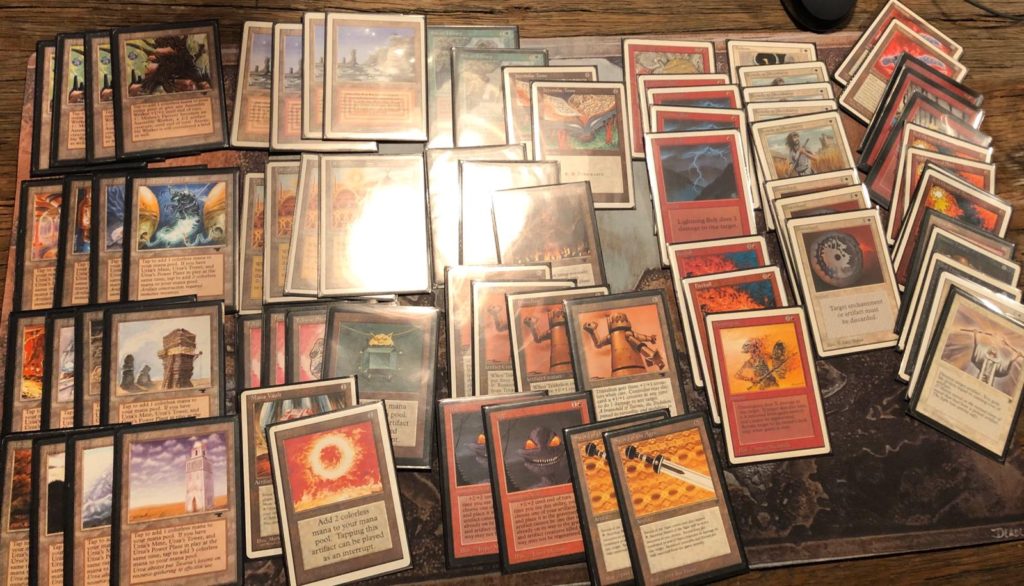 Yes it's a shitty picture 😉 
Please find the rest in the deck Gallery: 
Cup 3 
So we're at cup 3, by now even more players found their way to the tournament and we even had our community turtle expert, Gerard Siatkowski joining after he swore he would adjust to our time zone. We just forgot to also let him promise not to win the whole round ;-). Fortunately Gerard is cursed with being beaten in top 8's by Dutch men after a clean record (winter Derby vs Anne) so Ron beat him in the quarter finals. 
The standings: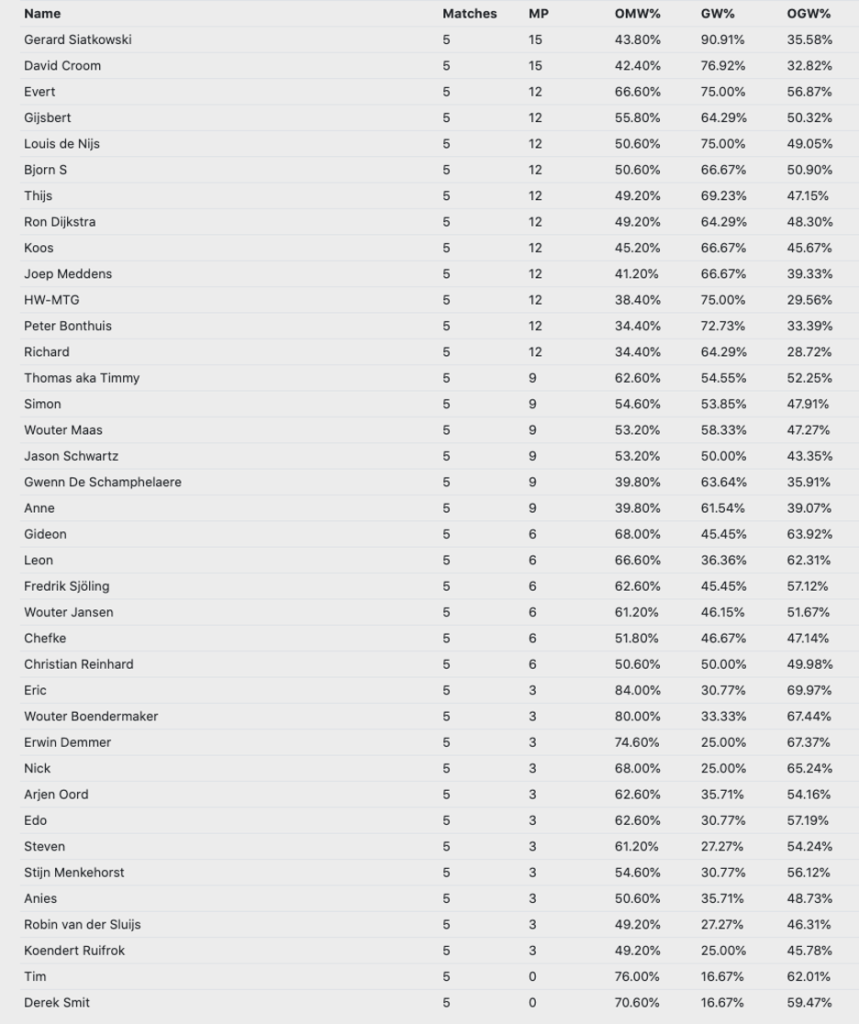 Top 8: 
Quarter Finals
Winner

Gerard Siatkowski

VS

Ron Dijkstra

Ron

David Croom

VS

Thijs

David

Evert

VS

Bjorn S

Evert

Gijsbert

VS

Louis de Nijs

Gijsbert

Semi Finals

Ron

VS

Gijsbert

Gijbert

David

VS

Evert

Evert

Finals

Gijbert

VS

Evert

Evert
So Evert is in his 2nd top 8 with a deck he brewed together with Anne, he plays Gijsbert in the finals and wins again. This meant we had a CL ticket left as Evert already had one, the rules stated this would go to the highest ranked of the semi-finals which was David. David would thank Evert later in his own way for this. 😉
The Decks
The deck of this round was even harder to pick, we got Koendert on Artillery and Life Chisel, Bjorn Top 8 again with Tron, Wouter B. with holy lights, Richard with a singleton deck (and doing well), Leon on Clones and Doppelgangers but I think the nostalgia of Wall of Ice wins… This is Wouter J.'s deck: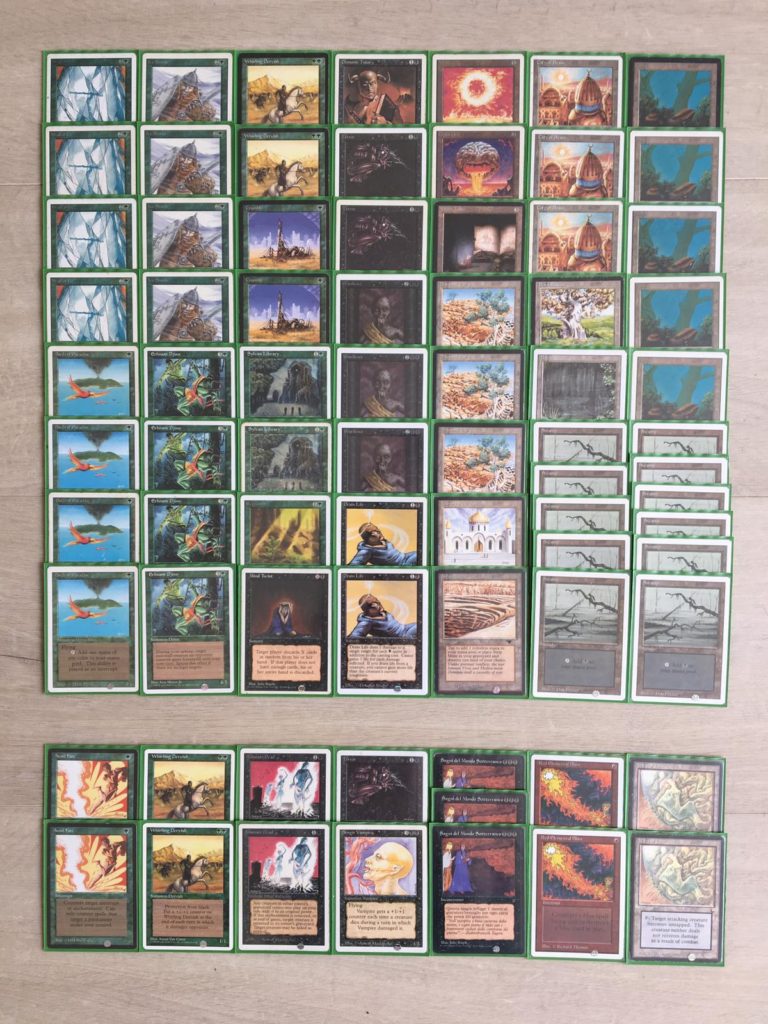 I couldn't ignore a pestilence 
The rest of the decks:
Cup 4: 
The last and final cup to qualify for a CL ticket, word had traveled and people were getting anxious to get a ticket, on the other hand a lot had agreed to go for spice so we got a nice mix in the last cup. I decided to give the Lotus Eater deck a chance. 
Standings: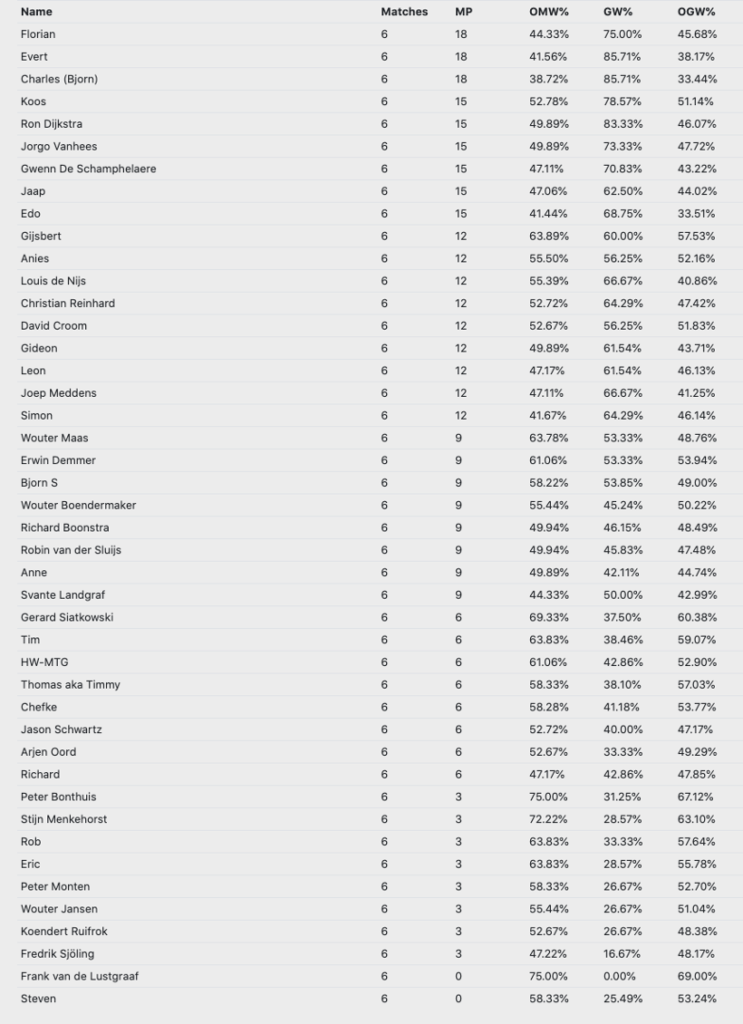 Please note that although it states Koos, it actually was his twin brother NIck playing. Koos was blessed with the birth of his son so not thinking about slinging spells. Christian in meantime predicted this because a couple of days earlier he actually made the twins a personal card: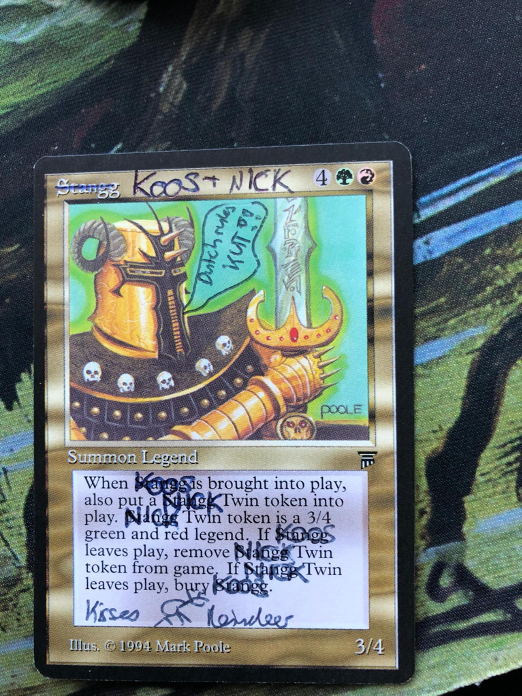 Top 8: 
Quarter Finals
Winner

Florian

VS

Jaap

Jaap

Evert

VS

Gwenn De Schamphelaere

Gwenn

Charles

VS

Jorgo Vanhees

Jorgo

Nick

VS

Ron Dijkstra

Ron

Semi Finals

Jaap

VS

Ron

Ron

Gwenn

VS

Jorgo

Gwenn

Finals

Ron

VS

Gwenn

Ron
Yes, Evert was in the top 8 again and we were starting to think he was unbeatable until Gwenn did it. Still this was a great achievement with his untested Tania deck. 
The Decks:
The choice here is a bit easier, yes Evert was a great surprise to do so well with an untested Titania's Mirror deck, Richard with his Royal Icy deck, but there is one deck which stood out by a mile, Anne took "it's spice and go nuts" so far that he created a deck in which he could play as many games as possible, it's a night to play against but really a piece of art. You can find his deck in the gallery below and in action on the channel of Timmy.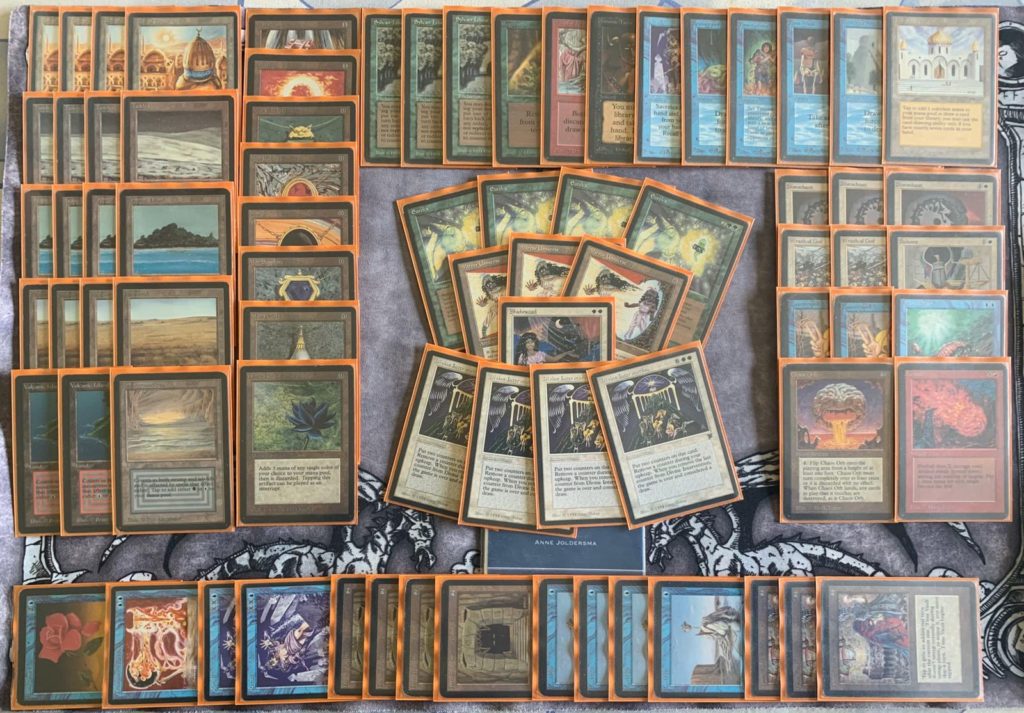 Groundhog day 
Find it in the rest of the decks in the gallery below: 
The Champions League 
So this is it, the moment we've all been waiting for, the best of the best of the 4 cups are put in T8 to face each other. Everybody had to play with the deck they won their ticket with, this meant Evert had to play his deck out of the 2nd cup, you can find the match-ups below:
Quarter Finals
Winner

Leon

VS

Gwenn

Leon

Evert

VS

David

David

Gijbert

VS

Peter Monten

Gijsbert

Ron

VS

Peter Bonthuis

Ron

Semi Finals

Leon

VS

Ron

Ron

David

VS

Gijsbert

Gijsbert
Yes you are missing the final between Ron and Gijsbert, the battle was too epic to describe so you better look it back at Timmy's channel with commentary between me and Timmy. Please note my sound is bad due to timmy and me being in a whereby room which is then sent by Timmy's laptop to youtube live. 
So that was it, the CC is over, I enjoyed organising it so much that I decided to create a monthly tournament within the community, it's open to anyone, the rule is that you play european timezone, read all about the ODOL here. 
So I hope you enjoyed this post and till next time!