(Reading tip: This website is best suited for mobile devices, pictures are best watched in landscape mode)
The 3rd Raging Bull Series was again an online edition. It was really time to play some live Magic again but we weren't allowed to do that just yet. I wasn't really looking forward to host an online edition but I felt I couldn't skip it either. After talking with Timmy we decided he would join me at my place which already made things a little better. Last year we did a 12 hour non-stop livestream but we were both sitting at home. The difference was definitely noticeable. I opened sign-ups and 34 players joined us to play the Raging Bull Series. I was aiming for 32+ so that was great, playing 6 rounds + top 8 is a sort of sweetspot for me. 9 hours of play if you make it till the finals and done around dinner time if you don't make top 8. I did some grocery shopping before the tournament and felt pretty excited the week in advance.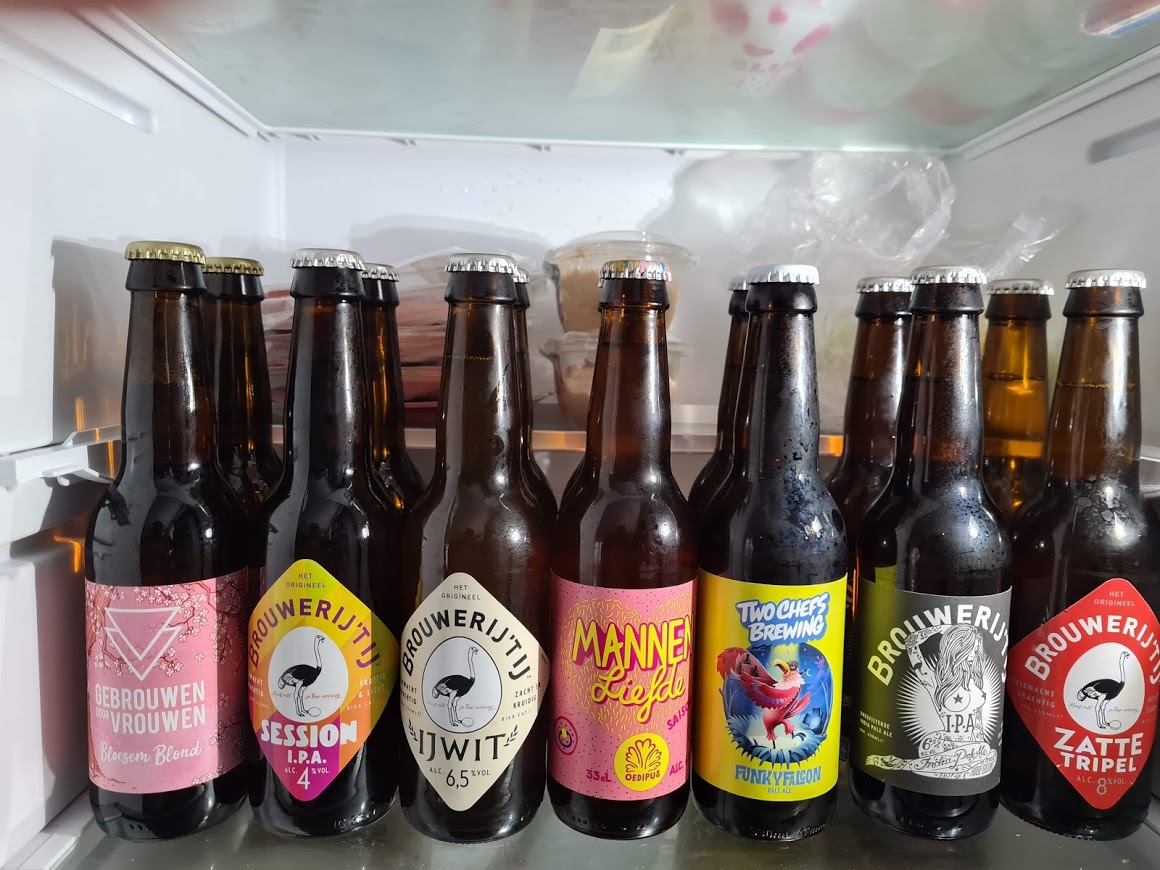 When Timmy came in we started setting up everything. Unfortunately we had some issues with the livestream for the first 2 hours, but fixed it when we switched laptop. Making the decision to do everything on Tolaria.app was a great choice. The platform has literally everything you need and saves me as TO a lot of work. Most players seem to like it as well and we hardly had any issues. Players who used it for the first time already got it after 1 round of play, which says a lot. Slanfan and the team have done an excellent job and I would really recommended everybody to start hosting their tournaments on Tolaria if they can. Biggest downside is probably that the site isn't suitable for mobile yet, which you don't really need if you are going to play but is handy for reading messages and signing up events.
I'm writing this post one month after the tournament which is way to late to remember everything. However I vividly remember the first match we streamed which was Bob against Ben. Bob played his non standard Mono Blue deck which he tweaked at the kitchentable over a long time. I've often been his opponent during those kitchentable sessions and his deck improved from T3 to something that curves out so well that it's a fierce competitor against almost any deck. Ben played Titania's Prison which is my pet deck. Only Ben did it with a switcheroo sideboard which caught many people by surprise. The match played out perfectly on stream and from that 1st minute Timmy and I were on fire. It was the most fun I ever had doing live commentary. 11,5 hours of non-stop streaming and not a moment I felt like taking a break. Almost all matches were enjoyable to watch and else there was a story to tell which lead us down a rabbit hole which we hardly got out. Yes, we sometimes missed a play and it contained a lot of x-rated material, but those who joined earlier livestreams probably knew that in advance.
Top 8 contained great people. Henk & Bob, 2 of my best friends. Ben with his Titania's switcheroo deck. Ron, who tweaked his deck to make it a little faster, since his opponents always take to much time when playing against him….. Baptist who I didn't knew before the tournament and send in half a deck so clueless what he was playing 😉 Ole who is 1 of those legendary players who just resemble what Old School is about. Bjorn, who we made fun of since he played a "suboptimal" version of Leo Bruder's Robots all the way till the semi's. And last but not least, Wouter B. Wouter played a non-powered Mono Red Atog deck and won the Raging Bull Series. That's just awesome in itself and although it's pretty impossible to build a cheap Swedish Legal deck nowadays, it again proofs that you can win decent sized tournaments without Power.
For me this was the closure of 1,5 years of online Old School Magic due to COVID. These were strange and uncertain times but the online presence of the Old School community was a great distraction for myself and many others. It was an opportunity to meet many people from different communities across the world and I'm certain that in the future we will see some awesome live gatherings where people who played online against each other for months will finally meet for the first time. Since my wife and I are expecting a new baby (delivery date was yesterday…) I'm probably not crossing to many borders in the coming months but I can't wait to see you all at Dwarven Warriors, Hill/Frost Giant Cup, Uthden Troll Cup, Gathering of The Knights of Thorn, my beloved Raging Bull Series next year in Amsterdam or any other tournament in the near future!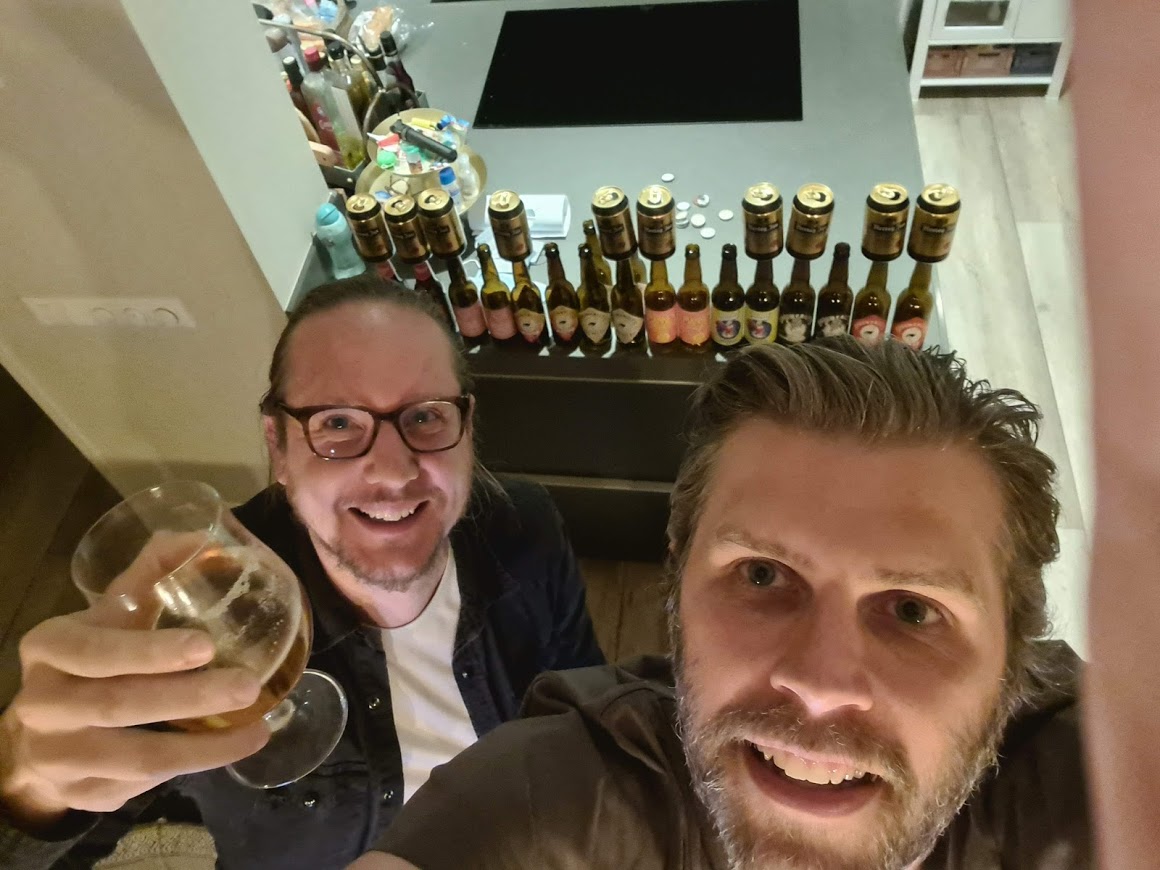 Live stream by Timmy the Sorcerer
During the Raging Bull Series we streamed live on YouTube. You can view the complete stream on YouTube here: https://www.youtube.com/watch?v=IUbESLp8Iuw
Timmy will also create commentated video's which will air on his YouTube channel. The first one will be released coming Tuesday.
Pairings & Results
Round 1:
Round 2: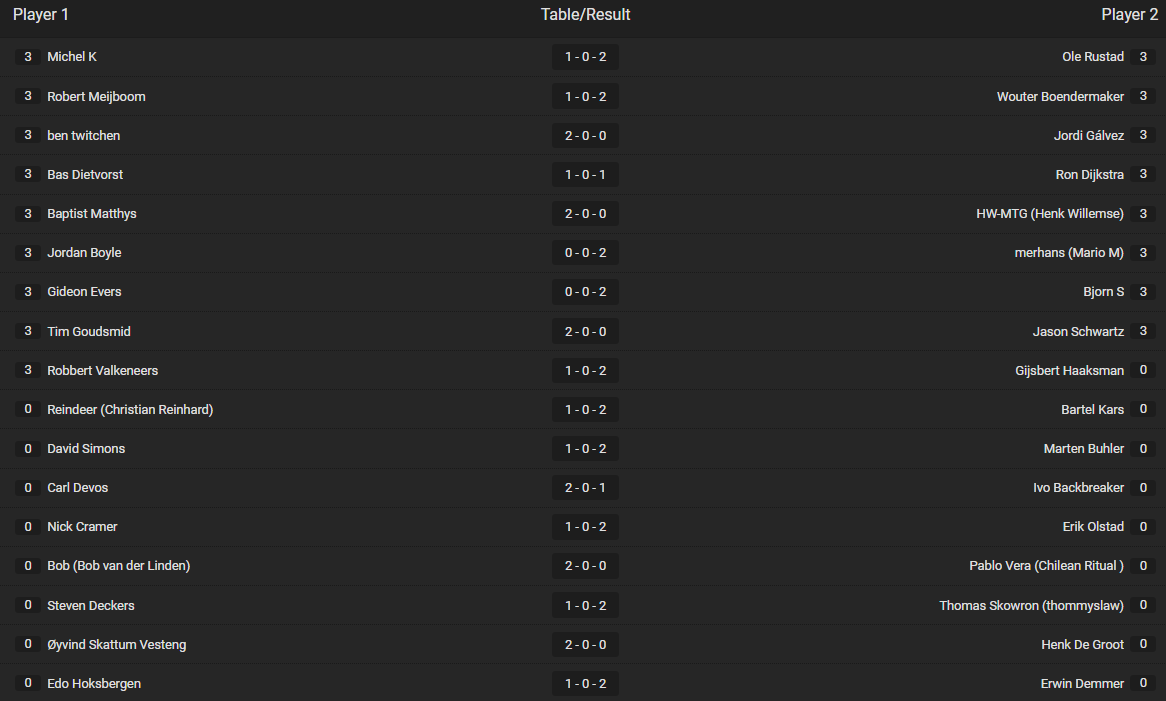 Round 3: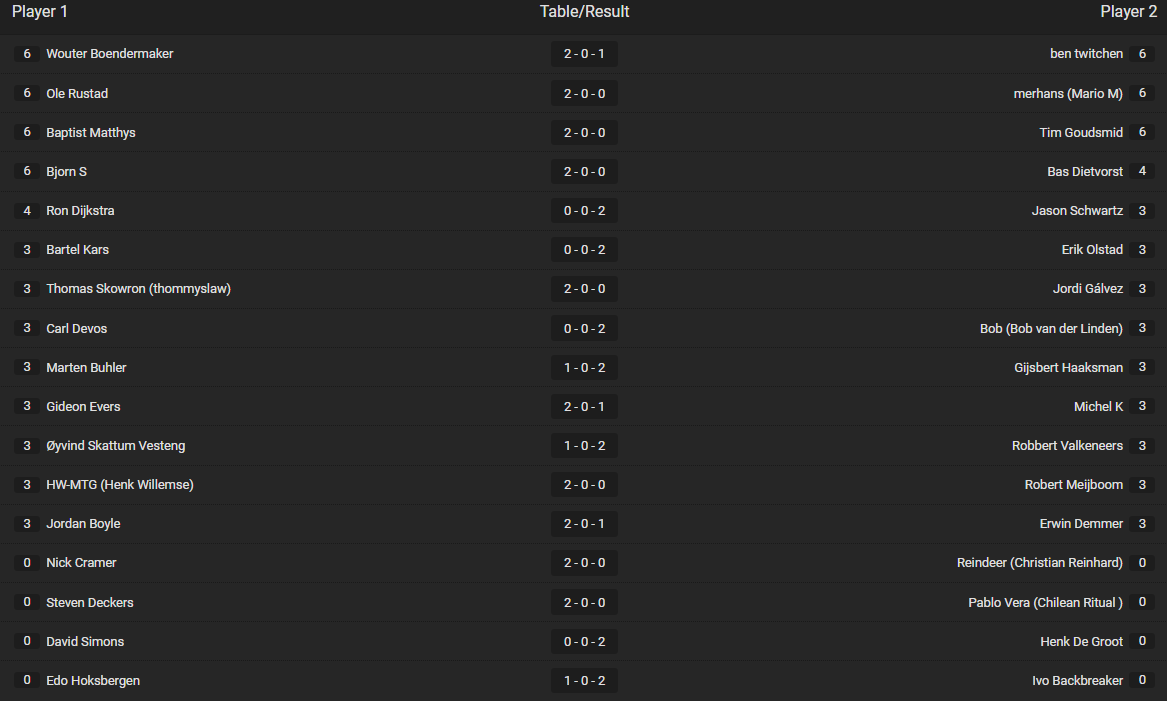 Round 4: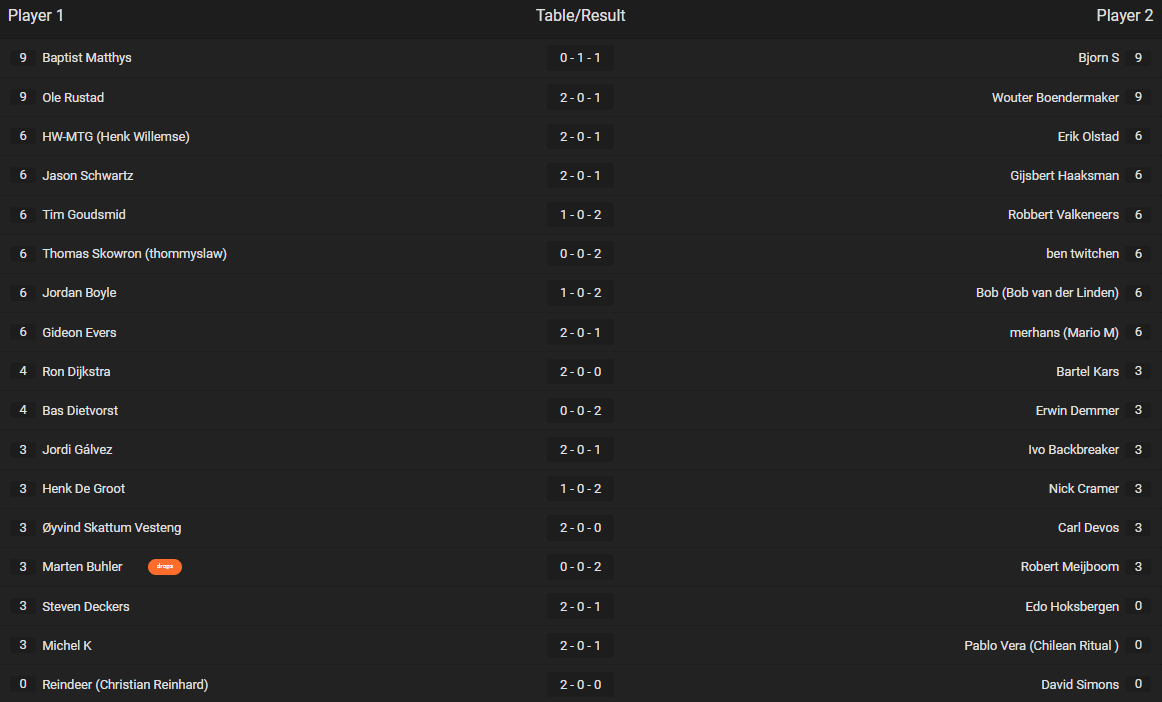 Round 5: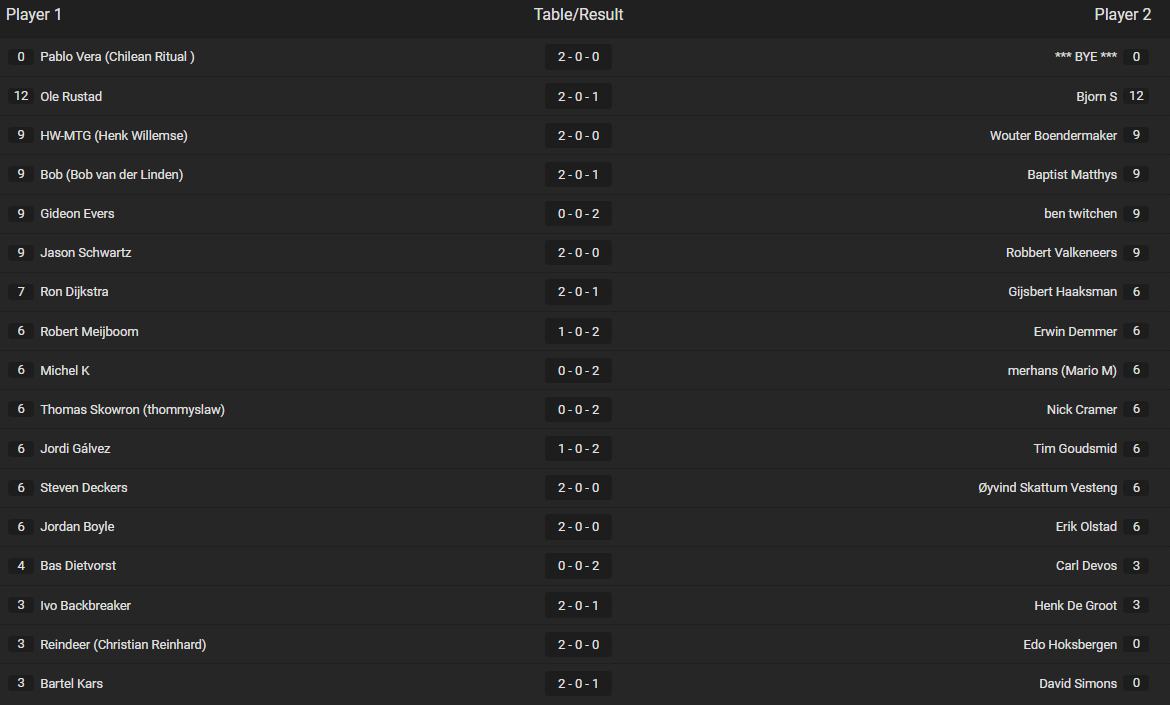 Round 6: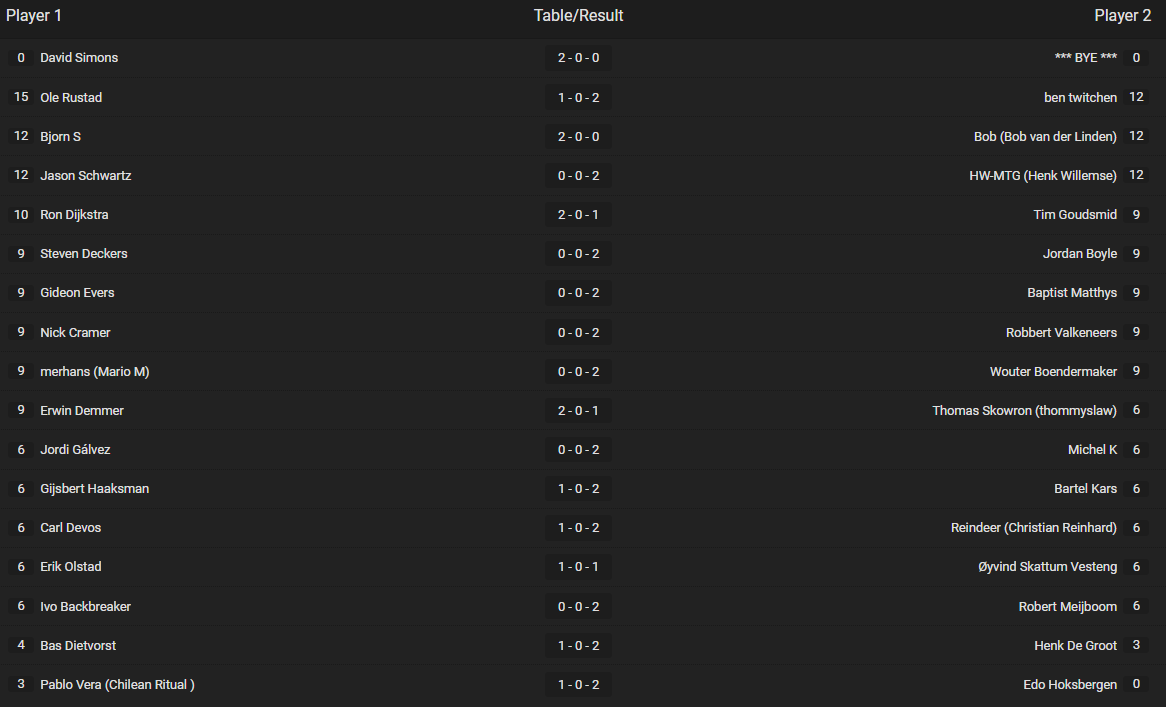 Final Standings: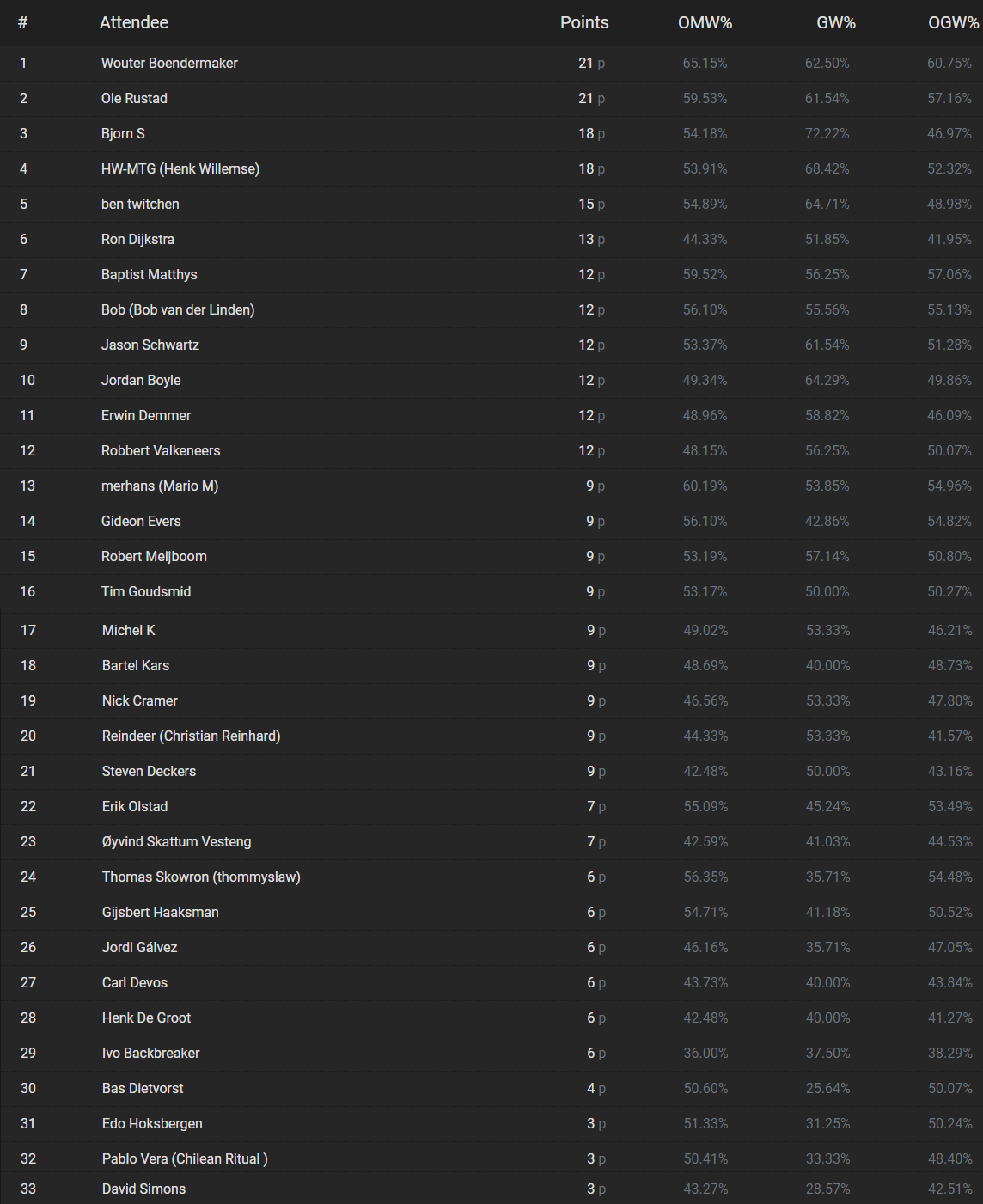 Top 8:

Participants & Archetypes
| Result | Name | Archetype | Unpowered |
| --- | --- | --- | --- |
| 1 | Wouter Boendermaker | Atog (R) | Y |
| 2 | Ole Rustad | Avoid The Efreets | |
| 3 | Bjorn S | Suboptimal Bots | |
| 4 | HW-MTG | Robogeddon | |
| 5 | Ben Twitchen | Titania good stuff | |
| 6 | Ron Dijkstra | Sac Valley | |
| 7 | Baptist Matthys | Lions and Friends | |
| 8 | Bob | I'm blue dabedeedabedow | |
| 9 | Jason Schwartz | UBRw Pain | |
| 10 | Jordan Boyle | Jordan.Fish | |
| 11 | Erwin Demmer | Leo's Broeder | |
| 12 | Robbert Valkeneers | Lat-Nam Brobots | |
| 13 | Merhans | Goblins | Y |
| 14 | Gideon Evers | RGW Zoo | |
| 15 | Robert Meijboom | Gentleman Black | Y |
| 16 | Tim Goudsmid | Mono Green | |
| 17 | Michel K | Lion Dib | |
| 18 | Bartel Kars | Born on the Bayou | |
| 19 | Nick Cramer | Lion Dib Bolt | |
| 20 | Reindeer | Bonjour chez les Kötts | |
| 21 | Steven Deckers | Dead Guy Ale | Y |
| 22 | Erik Olstad | Malte Aggro | Y |
| 23 | Øyvind Skattum Vesteng | Saturday Night Moon Disco | Y |
| 24 | Thomas Skowron | Atog & Friends are going to Sweden | |
| 25 | Gijsbert Haaksman | Mono Green | Y |
| 26 | Jordi Gálvez | Purple Mono Black | Y |
| 27 | Carl Devos | Chimay Triple | |
| 28 | Henk De Groot | Hankdestruction | |
| 29 | Ivo Backbreaker | BW Beauty | |
| 30 | Bas Dietvorst | Rukh Valley | |
| 31 | Edo Hoksbergen | Fast Universe | |
| 32 | Pablo Vera | Su-Chi Burn 'Em | |
| 33 | David Simons | Zombie Disco | Y |
| 34 | Marten Buhler | Goblins | |
Decklists