It's roughly 2 years ago that I got pulled back into Magic and what a journey it has been! Magic is simply the best game but combined with the nostalgia of old school cards there is just nothing better. Well, maybe there is something I did miss the last 2 years and that's opening packs. Back in the day buying packs or even a boosterbox was something really special! Sure you could trade cards with other players but the excitement of opening packs always made you buy more even while most likely you didn't get the cards you really needed.
In my 17 years of absence I did play some boosterdrafts with friends, the perfect combination of opening packs and playing the game. Since I returned I played one of the new pre-releases, sure fun but I'm just not really into new cards. On YouTube OpenBoosters opens a lot of old boosters and I don't think I've missed a single video. Sure the Alpha/Beta/Unlimited openings are the most fun but opening Ice Age or Alliances is something I did myself as well and something I really look forward to doing myself again.
I started buying into some old sealed product in December 2018. First a box of Ice Age, just holding that box was a real joy. After that I bought some more stuff and all of a sudden I had a nice collection of old sealed product but could only look at it, waiting till the price would go up and maybe sell it one day. The premium for opening packs only gets bigger so the incentive to open anything just gets smaller and smaller. I was certain to do at least 1 boosterdraft with all this stuff but my mind wondered off to the times when I started playing Magic and opened packs to improve my deck, often with little success.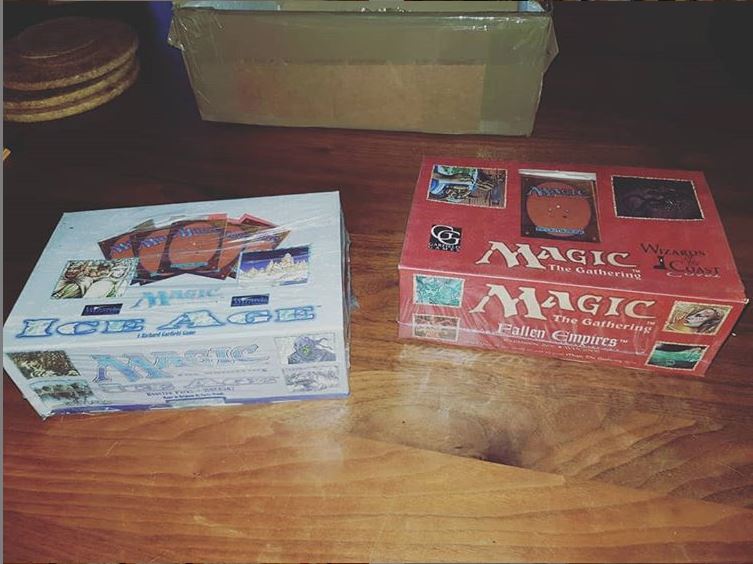 Sure in old school we play with the old cards we all love, but the cardpool is endless as long as you can afford it. Back in the day we all had a tiny cardpool and while I fully understand there is no way you can re-experience the time that you started playing Magic, you can re-create an environment in which the cardpool is small, very small. So the idea was born, re-use cards opened in draft/sealed deck events and put them in a new cardpool in which you can trade cards and build decks, just like back in the day. After pitching it with some people things derailed, most people got way to exciting and there was no way back.
It became a thing and needed a name, the League is called "Magic Reborn" and we have our first event on the 4th of October. You can find all information over here: Magic Reborn League. After getting my hands on some 4th edition starterdecks two weeks ago I knew what the perfect opening event would be: A sealed deck event with a 4th Edition starter, 2 Fallen Empires boosters and 2 Chronicles boosters.
I bought enough boosters to organise 5 event for 16 players so that all people know in advance what the costs will be. After these 5 events we will have a constructed tournament in which you can showcase your deck against others. This format will be slow, both in gameplay as in collecting/trading cards and building your deck. This whole thing will probably take at least 1 year to unfold but if things go we've all opened:
8 * Fallen Empires boosters
1 * Fourth Edition starter
2 * 4th Edition boosters
2 * Chronicles boosters
5 * Ice Age boosters
3 * Homelands boosters
1 * Alliances boosters
For a total of 267 Cards and that's not a lot to brew with. I can't wait, unfortunately the supply of boosters isn't endless and there is only so much product you can buy for a reasonable price. 16 players is perfect for drafting so there is really a maximum number of players except for the Fallen Empires booster draft organised by Joep which will have a max of 32 players. If you are interested you can always drop me a message but currently it seems we are already full before the league is actually launched. I still couldn't wait to tell the story and this might inspire other communities to do something similar. The events will be streamed on Twitch and edited on YouTube by Timmy the Sorcerer. Imaging the amount of packs we are going to open (16 starters and 336 boosters), imaging the amount of rubbish we are going to pull, imaging the amount of fun we will have at the drafts. Opening is for sure, always priceless!